News
See what we are up to
Nov 20th 2019
MY01 is presented at the CHUM
Our CFO, Simon Sanscartier, giving a presentation on MY01 at the  InnovAction conference at the CHUM, a three day event focused around healthcare and value-based innovation in the Quebec biotechnology sphere.
Oct 22nd 2019
DKOU 2019
Our CMO was one of the two invited keynote speakers from the COTS (Canadian orthopaedic trauma society) group that delivered talks. Also, our booth at the German congress of orthopaedics and traumatology in Berlin was a great success as we got to further the build of a pipeline with reputable German champion surgeons. These new contacts will be the starting point for our clinical trials in Europe.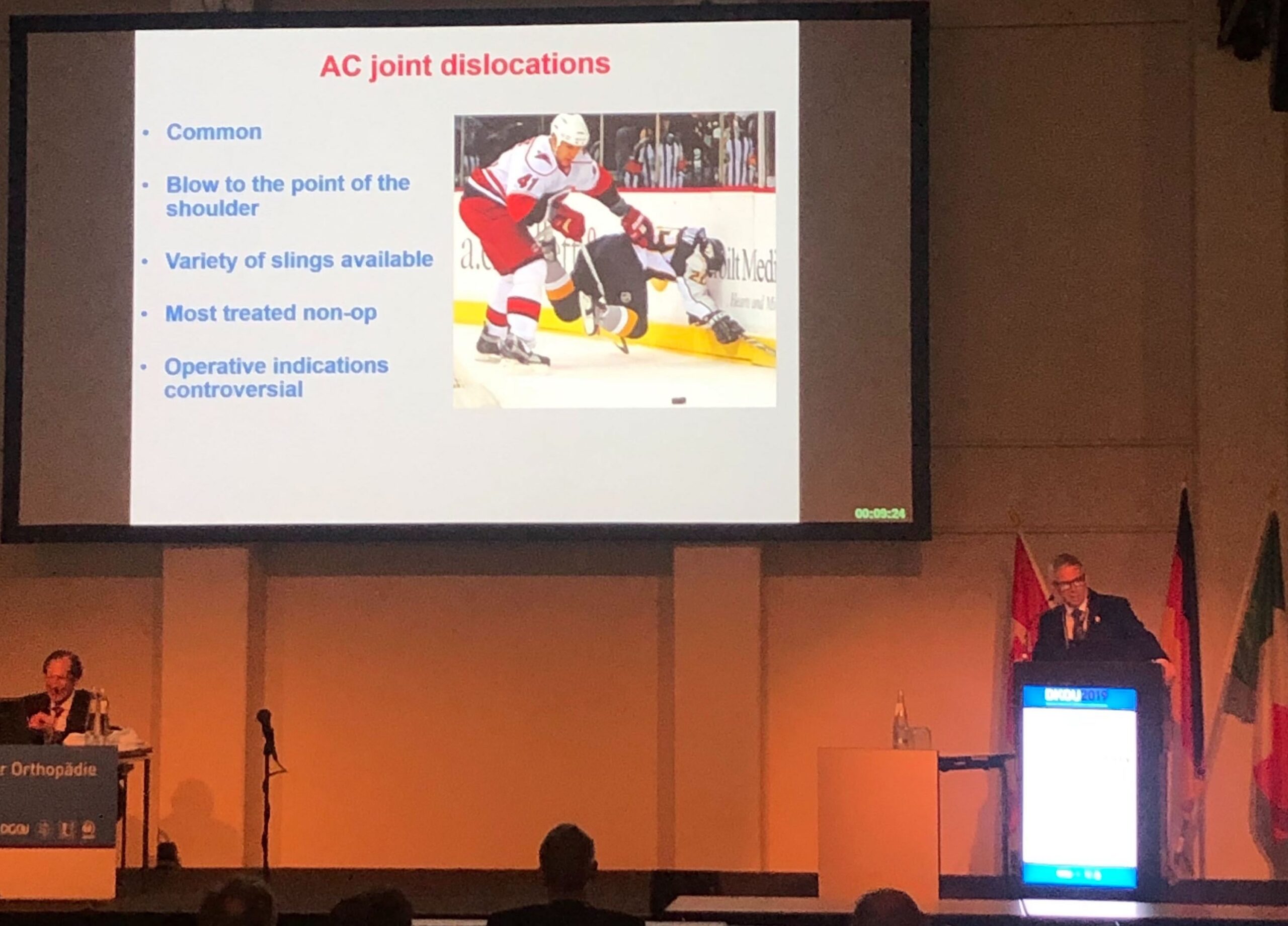 Sep 25th 2019
OTA 2019
We had our first OTA corporate sponsor experience. We were able to meet a large new group of interested clinicians at our first OTA meeting. We were pleasantly surprised when the MY01 device was prominently mentioned in the compartment syndrome symposium.   
Aug 21st 2019
MHSRS 2019
Charles and Ed presented a poster at the largest American Military conference of the year in Orlando, FL.  The MHSRS is an annual four-day educational symposium that draws approximately 2,900 attendees. We had the opportunity to discuss the advances of the MY01 device and the science behind it.
Aug 15th 2019
Visit to California
With the help of @MEDTEQ_CA our team (Anthony Sirgi and Faisal Al-Kabariti) went down to California. They visited current and potential new suppliers, evaluated their capabilities to meet product specs, and shared with them our Regulatory plan and expectations.
Jun 27th 2019
My01 meets the Minister of Economy and Innovation, Mr. Pierre Fitzgibbon
Thanks to our partnership with C2Mi we had the opportunity to introduce Mr. Fitzgibbon to the MY01 device, we talked about our growth as a company in the biotechnology ecosystem in Montreal and in Quebec. Mr. Fitzgibbon was eager to know more about the technology and to see how the company grows.
Jun 10th 2019
MY01 is awarded a prize for exemplary integration of its immigrant workforce
Most of our employees are first generation immigrants. They are all newly graduated in science or engineering from McGill University.  Some time ago, some of them expressed their interest in joining the Ordre des Ingénieurs du Québec. French being a requirement to join the OIQ, french classes have been implemented in the office.
Link to the video can be found here
May 23rd 2019
McGill Clinical Innovation Competition Finals
This year MY01 made it to the finals of the McGill Clinical Innovation Competition (CLIC). The CLIC competition was started in 2017 at McGill in order to recognize McGill Faculty members, including learners and graduates, who conceive and develop novel innovations that aim to improve healthcare and outcomes. Cooper delivered a Ted talk-style presentation in front a panel of judges comprised of leaders in clinical care, academia, industry, engineering and business.
May 17th 2019
GETRAUM 2019
MY01 is presented at the GETRAUM (Groupe d'Etude en TRAUMatologie; the Trauma Research Group) conference in Strasbourg, France. Many prominent orthopaedic surgeons were present and were eager to try the MY01 device. We got the chance to discuss with a number of members of the European Federation of National Associations of Orthopedics and Traumatology (EFORT), the largest consortium of orthopedic and traumatology in Europe.
April 10th 2019
MY01 is presented at Medtech Strategist in Dublin
Simon flew to Dublin and got the chance to present at the Medtech Strategist event in Dublin. The event is recognized to be one of the leading medical technology investment forums in Europe. The presentation piqued the interest of doctors, investors and distributors who are referring to our device as "the next big thing" in the ortho/trauma fields.
March 28th 2019
MY01 took the MTEC annual symposium by storm
Simon and Cooper flew down to Charleston, S.C. for the fourth Medical Technology Enterprise Consortium (MTEC)  symposium. The most prominent figures in American military medicine were present. MY01 delivered presentations both during a formal military pitch event and poster session. This opportunity positions MY01 to leverage further U.S. military funding opportunities.
March 28th 2019
MY01 gets a feature in La Voix de l'Est
Nxtsens and MY01 get a feature in the Quebec journal "La Voix de l'Est". The journal focuses mostly on the regional development of Quebec and took a great interest in our technology, as well as in our involvement with C2Mi, a Bromont-based manufacturing facility. The full article can be found here.
Feb 24th 2019
Nxtsens presents MY01 in front of the Premier of Quebec
MY01 was presented to Quebec's Prime Minister, Francois Legault, who announced a $26M grant to our partner C2Mi. In collaboration with C2MI, our joint team developed the most critical part of MY01 – its biocompatible micro-sensor and we are slated to receive $500k of that grant to subsidize the development of MY01 and its early production at C2Mi.
Link to the article can be found here.
Jan 22nd 2019
MY01 presented at the EWI SOMOS Conference in Washington DC.
The government shutdown might have affected politicians and the FDA, but it didn't slow the excitement of surgeons for MY01. Ed and Charles went down to Washington to present our device and the data the team gathered at the Society of Military Orthopaedic Surgeons Extremity War Injuries Conference (SOMOS EWI). Presenting our research at the poster session, we drew the attention of many surgeons and further confirmed their excitement for the availability of MY01 as a tool for ACS diagnosis. We also participated in the think tank on current concepts in acute compartment syndrome. We were able to communicate with physician decision makers for future market development and the ongoing funding of ACS research
Jan 9th 2019
Intuitive process allowed surgeons to use MY01 within minutes – Sacre Coeur Hospital in Montreal
Anticipating the Montreal study kick-off; Abdel, Cooper, and Dr. Harvey traveled across the island to meet the trauma team at Sacré-Coeur. We introduced the study goals, walked the surgeons, residents and researchers though the application and onboarding process, and had the opportunity to demonstrate the device functionality on a simulated fracture wound. The feedback and interest we received was overwhelmingly positive. Dr. Harvey commented on the noticeable physician excitement.